Mielodamus is a one man music project based in Groningen, The Netherlands. Heavily influenced by artists such as Moby, Brian Eno and Röyksopp his style of music can be described as atmospheric electronic music.
He has put forth three collections of his music: 'Top Priority' (2010), 'Atmospheres' (2011) and 'Flying Over Mountains' (2012).
While often sticking to atmospheric music, sometimes a deviation is made towards more dance-esque music, often taking the form of remixes.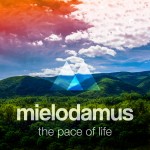 Mielodamus proudly presents his 4th album: "The Pace of Life". Darker, more up-beat and relying less on instrumentals, 'The Pace of Life' is once again a one-man project. It is available on SoundCloud, Spotify, Rdio, Deezer and as a free download from BandCamp. Tracklist: 1. Intro 2. Esther 3. The Pace of Life 4. Le [...]