Mielodamus is a one man music project based in Groningen, The Netherlands. His music can be described as Atmospheric and Electronic.
He has put forth four collections of his music: 'Top Priority' (2010, 'Atmospheres' (2011), 'Flying Over Mountains' (2012) and 'The Pace of Life' (2014).
While often sticking to atmospheric music, sometimes a deviation is made towards more dance-esque music, often taking the form of remixes.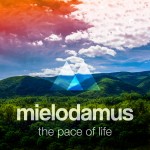 Mielodamus proudly presents his 4th album: "The Pace of Life". Darker, more up-beat and relying less on instrumentals, 'The Pace of Life' is once again a one-man project. It is available on SoundCloud, Spotify, Rdio, Deezer and as a free download from BandCamp. Tracklist: 1. Intro 2. Esther 3. The Pace of Life 4. Le [...]